James Ben Linus's first fan fiction takes us to South Africa. Sixteen strangers will compete against one another while battling the elements. They must learn to adapt, or they will be voted out. If they can learn to outwit, outplay, and outlast the rest, they will be given the million dollar prize and the title of sole survivor!
The winner of the season was Chuck, defeating Kristina in a 5-2 vote for the title of Sole Survivor and the $1,000,000 prize. Dusty was named the "Sprint Player Of The Season", winning $100,000.
Dusty and Felicia went on to return as "favourites" in Survivor: Dominica - Fans vs Favourites. Dusty placed 8th respectively. Felicia went on to become the Sole Survivor.
Twists/Changes
Hidden Immunity Idols - Hidden Immunity Idols are in play. There will be one hidden at each camp.
Contestants
Contestants
Original Tribe
Merged Tribe
Finish
Votes
Against
Dev
Retail Salesman
Venda
1st Voted Out
Day 3
5
Lucy
Swimsuit Model
Sotho
2nd Voted Out
Day 6
7
Josue
Student
Sotho
3rd Voted Out
Day 9
5
Alex
Buisness Apprentice
Venda
4th Voted Out
Day 12
6
Greta
Retired
Venda
5th Voted Out
Day 15
8
Matthew
Spots Retailer
Sotho
6th Voted Out
Day 18
3
Julie
City Council Member
Sotho
Oorlewende
7th Voted Out
Day 21
10
Felicia
Attorney
Sotho
8th Voted Out
1st Jury Member
Day 24
8
"X"
Tattoo Artist
Sotho
9th Voted Out
2nd Jury Member
Day 27
6
Imogen
Roller Girl
Sotho
10th Voted Out
3rd Jury Member
Day 30
7
Eve
Teaching Assistant
Venda
11th Voted Out
4th Jury Member
Day 33
4
Nouvel
Graphic Designer
Sotho
12th Voted Out
5th Jury Member
Day 36
4
Chris
Musician
Venda
13th Voted Out
6th Jury Member
Day 37
8
Dusty
Personal Assistant
Venda
14th Voted Out
7th Jury Member
Day 38
5
Kristina
Art Teacher
Venda
Runner
Up
0
Chuck
Street Performer
Venda
Sole
Survivor
6
The Game
Episode #
Episode title
Challenges
Eliminated
Vote
Finish
Reward
Immunity
1
"Butcher The Pig "
none
Sotho

 

Dev
5-3
1st Voted Out
Day 3
2
"I Forgot She's a Lesbian"
Venda
Venda
Lucy
7-1
2nd Voted Out
Day 6
3
"Mother To Son"
Sotho
Venda
Josue
5-2
3rd Voted Out
Day 9
4
"Fish In a Barrel"
Sotho
Sotho
Alex
6-1
4th Voted Out
Day 12
5
"Breakdowns"
Venda
Sotho
Greta
4-2
5th Voted Out
Day 15
6
"Él Está Loco"
Venda
Venda
Matthew
3-2-1
6th Voted Out
Day 18
7
"Driven By Rage"

 

none
Chuck
Julie
9-0
7th Voted Out
Day 21
8
"TBA"

Chuck
(Dusty, Kristina)

Dusty
Felicia
6-3
8th Voted Out
1st Jury Member
Day 24
9
"TBA"
Dusty
Nouvel
"X"
6-1-1
9th Voted Out
2nd Jury Member
Day 27
10
"TBA"
Chris
(Nouvel)
Chuck
Imogen
3-0
10th Voted Out
3rd Jury Member
Day 30
11
"TBA"
Eve
(Dusty)
Chuck
Eve
4-2
11th Voted Out
4th Jury Member
Day 33
12
"TBA"
Kristina
(Chuck, Dusty)
Chris
Nouvel
3-2
12th Voted Out
5th Jury Member
Day 36
13
"TBA"
none
Dusty
Chris
3-1
13th Voted Out
6th Jury Member
Day 37
Kristina
Dusty
1-0
14th Voted Out
7th Jury Member
Day 38
Jury Vote
Kristina
5-2
Runner
Up
Chuck
Sole
Survivor
Episode Summaries
Coming Soon
Voting History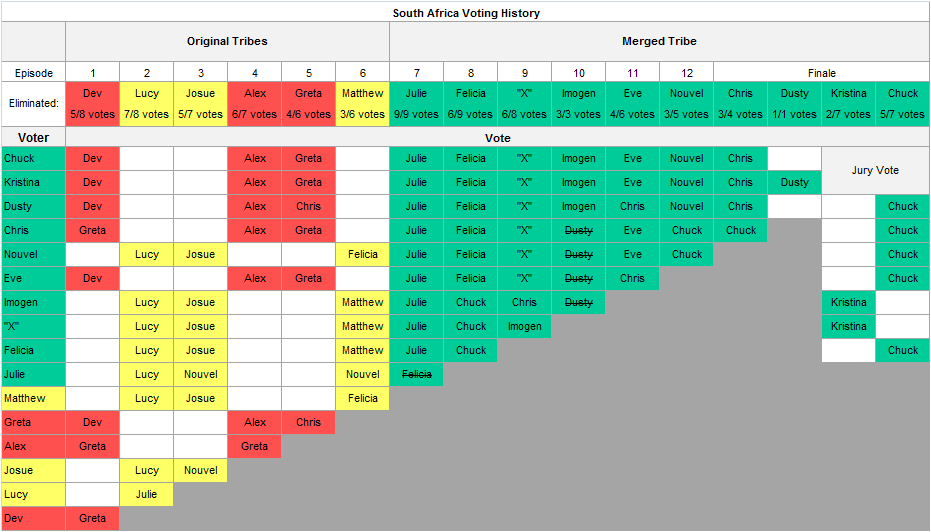 Edgic